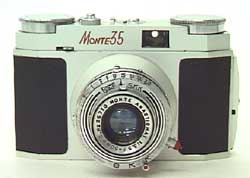 3-Dimentional Image
QuickTimeŞ is needed to see the image.
The featured camera for this time is Monte 35A (later model) introduced by Shinsei Optical Works in 1953. On this model was changed to the camera-body shutter button from the lens shutter lever on the earlier model released in 1952, and added accessory shoe.

Well then, let's take a look at it.

First introduced in 1953.
Camera type : 35mm leaf-shutter camera
Film : 35mm film
Picture size : 24 x 36mm
Standard lens : Monte Anastigmat 50mm f/3.5
Shutter speeds : S, K, K/B, 1 - 1/200 sec., build-in self-timer provided.
Focusing : for-element focusing
Body dimensions : 73 x 123 x 57mm
Body weight : 500 g.
---