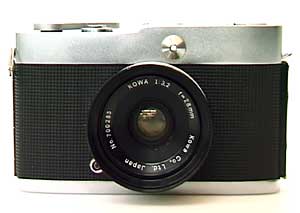 What we are going to introduce for this time is the camera manufactured by Kowa.
The one aspect of Kowa's policy about manufacturing cameras is that they were seeking not only high quality but also inexpensiveness when producing a camera. And among the cameras of them, this, Kowa SW met the both demands perfectly that you could purchase this camera as a low price as a 28mm lens.
The apperance of this camera, together with a Kepler-type finder above the lens, are unique and look to our eyes somehow stylish.
Although the focusing system is visual distance estimation, the click tells at 1 and 3 meters when turning the focusing ring so that the shutter can be released without looking away from the viewfinder.

Although this camera is not exactly a rangefinder camera, functions and mechnisms of it are almost the same as one of them.

First introduced in 1964.
Camera type : 35mm leaf-shutter camera
Camera body : alloy diecast
Lens : Kowa F2.32/28mm
Closest focusing distance : 0.5m.
Shutter : Seiko SLV
Shutter speed : B, 1-1/500sec.
Viewfinder : Kepler-type finder
Finder magnification : 0.4x
Focusing system : straight helicoid, visual distance estimation
Film wind : lever
Body dimensions : 127 x 76 x 51mm
Body weight : approx 580g.
---