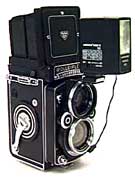 As shown in the right figure, the pictures were taken with the accessory shoe with the flash set on the view lens, which enables for the best camera for portrait photography to use the compact flash, and also it is very useful for fill-in flash.
Some of the famous photographer use same technic. They say it will help creating natural descriptions of subject in daylight, and use the adapter to set the compact flash on their Hasselblad.
The accessory shoe used in this page is MJ Accessory shoe manufactured by Mediajoy.

Item's datails are Here.