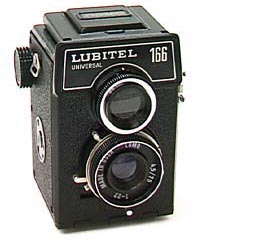 LOMO?
When you think of the Russian camera manufacturer, LC-A, "LOMO" maybe come first in your mind.
But in fact, it has produced a large variety of cameras, and those blow off the common knowledge of "High price camera, High performance".
The features of Lubitel 166 Universal are small!, light! and cheap!.
Comparing this with Rollei TLRs, it may look seedy, but the body weight of 550 grams lessens the burden when you carry it.
Over 90 % of materials are made of plastic, which made it possible the light weight.
Although this has a kind of toy-like appearance, it, in fact, attracts a large number of people worldwide for its compact body and unique lens performance.
Unfortunately, this isn't manufactured now and they say it's very hard to obtain it these days.

Whether it's good or not, this surprises you when you take a picture with it.